Service Name

(Test / Manufacturing Activity)

Sample Material Type

Explanation

(Conditions, Exceptions, Tools, etc.)

National / International

Standards

Availability of Laboratory

Accreditation / Quality

Certification

Gelimat Compounding
Thermoplastics
High Shear Thermokinetic Mixer
 
 
Injection Molding
Thermoplastics
ISO 178, ISO 527 Test Sample Production
 
 
Mini Extruder
Thermoplastics
upto 1 kg/h Production Capacity
 
 
Pilot Extruder
Thermoplastics
10-30 kg/h Production Capacity
 
 
Film Blowing
Thermoplastics
Film and Packaging Production
 
 
Mechanical Mixer
Resin, Emulsion, Liquid Masterbatches
Maximum 2000 rpm Capacity
 
 
Ross Resin Mixer
Thermoplastics and Thermosets
High Viscosity Resin and Solid Material Mixing
 
 
Reactors
Thermoplastics and Thermosets
Custom Jobs
 
 
Polymer Processing Laboratory offers the development of thermoplastic polymer compound formulations, masterbatch preparation, and improved manufacturing processes. This lab is equipped with a twin-screw extruder with the capacities of 500 g up to 20 kg, a high shear compounding machine, an injection molding, a film blowing system and two chemical reactors.
SU-IMC can contribute to product design, material selection and prototypes production of thermoplastic materials through the creation of novel solutions. Various nanomaterials and inorganic fillers and optimization of the production process are targeted to provide weight reduction and higher performance. Our qualified team devotes to the improvement of structural, thermal and mechanical properties of thermoplastic polymers and producing advanced functional composites based on industrial needs.
The capability and the capacity of the machines cover the complete production scheme of a plastic company and even it elaborates on raw material synthesis and modifications;
Various analyses of monomers and polymers can be performed by using a viscometer and moisture/solids analyzer.

Pilot and lab scale extruders have 20 to 0.8 kg/hour production capacities,

The pilot-scale extruder has three gravimetric feeders as well as a liquid feeding option whereas the lab scale has a volumetric feeder and a side feeder option. 

The high shear thermokinetic mixer can reach up to 315 °C under 30 seconds with an approximate max. rpm of 4000.

Reactors will mainly serve the customers in engineering plastics industry for novel monomer production, and to produce aviation thermoplastics such as PEEK, PEKK, PC, PEI, PA, and PPS.

Injection molding is used to produce test samples for thermo-mechanical characterization and mechanical testing such as tensile testing according to the ISO 527 standard and bending samples according to either ASTM D 4065 or D7028. The machine can be elevated to temperatures up to 300 °C and pressures up to 16 bar.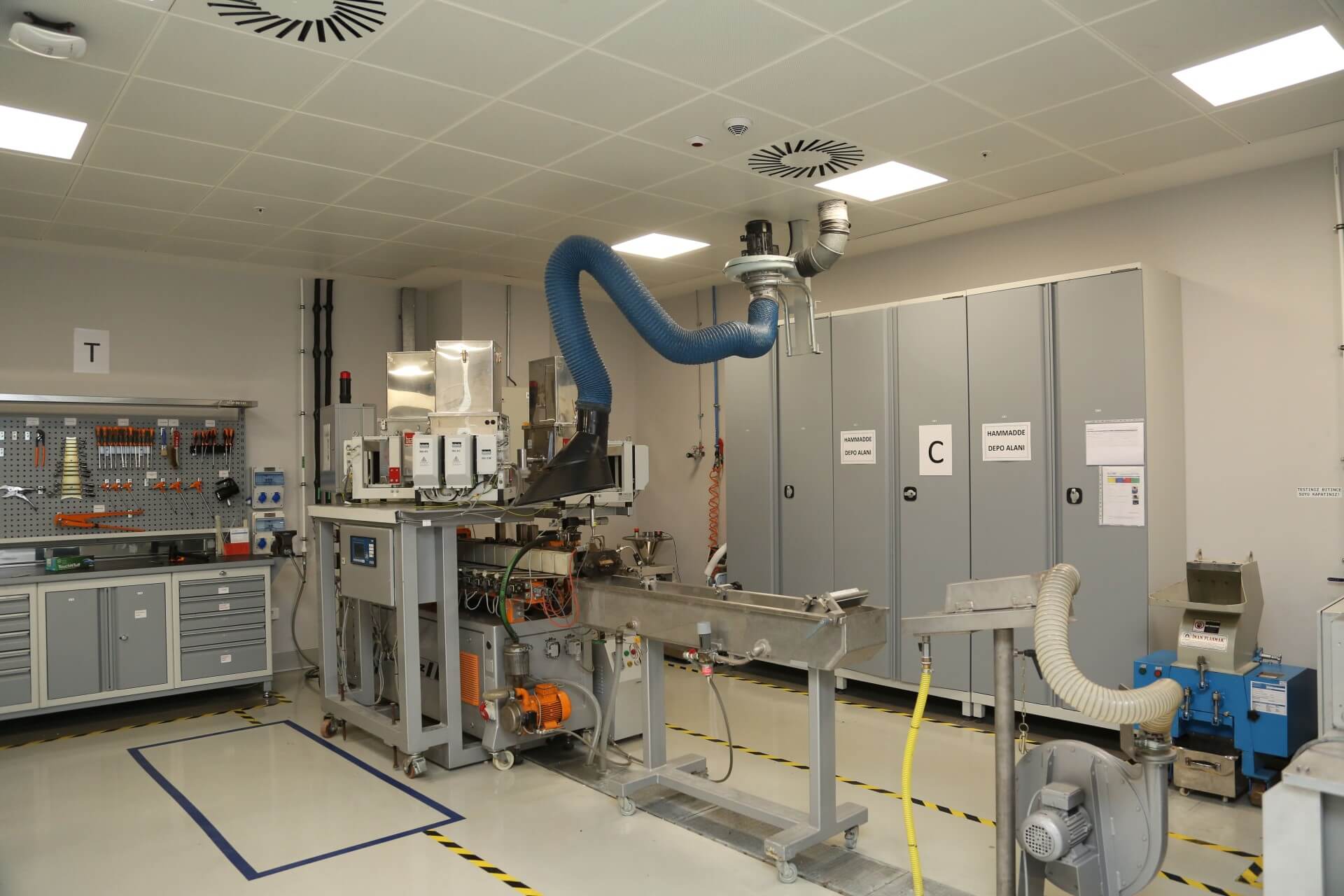 Our capabilities include;
Novel monomer synthesis, 

Functionalized, developed and improved compounds, 

New formulated masterbatches, resins, coatings and improved manufacturing processes. 
The polymer process aims to serve engineering plastics sectors such as automotive, hygiene, packaging materials, consumer appliances, construction, medical, coatings as well as aviation industry by producing thermoplastic resins like PEEK, PEKK and synthesizing novel monomers. 
Polymer processing lab offers the following equipment and machines for lab and pilot scale production:
Ultra-high speed thermokinetic mixer (Gelimat)

Twin screw extruder (cap:~20 kg/hour)

Mini twin screw extruder (cap: ~800g/hour)

Film blowing extruder

Injection molding machine

Viscometer

Plastic granulator machine

Precision balances
Vertical mechanical mixers

Magnetic stirrers

Moisture/solids analyzer

Heat mantle/controller

Resin mixer

Titrators

Reactors
Service Name

(Test / Manufacturing Activity)

Sample Material Type

Explanation

(Conditions, Exceptions, Tools, etc.)

National / International

Standards

Availability of Laboratory

Accreditation / Quality

Certification

Gelimat Compounding
Thermoplastics
High Shear Thermokinetic Mixer
 
 
Injection Molding
Thermoplastics
ISO 178, ISO 527 Test Sample Production
 
 
Mini Extruder
Thermoplastics
upto 1 kg/h Production Capacity
 
 
Pilot Extruder
Thermoplastics
10-30 kg/h Production Capacity
 
 
Film Blowing
Thermoplastics
Film and Packaging Production
 
 
Mechanical Mixer
Resin, Emulsion, Liquid Masterbatches
Maximum 2000 rpm Capacity
 
 
Ross Resin Mixer
Thermoplastics and Thermosets
High Viscosity Resin and Solid Material Mixing
 
 
Reactors
Thermoplastics and Thermosets
Custom Jobs