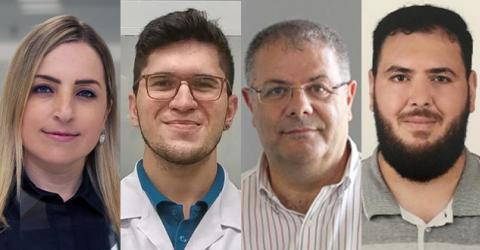 Atakan Koçanalı, a Sabanci University Integrated Manufacturing Technologies Research and Application Center (SU IMC) Researcher and student of the Materials Science and Nano Engineering Master's Program, under the supervision of Dr. Burcu Saner Okan, was awarded second prize in the category of the postgraduate poster competition held at the SPE ACCE 2020 Conference.
The SPE ACCE (Automotive Composites Conference and Exhibition) 2020 organized by Ford Motor Company and General Motors Company for the 20th time this year is regarded as the world's best conference in the automotive industry and composite materials field. SPE ACCE took place virtually between 9-11 September 2020 this year with a total of 550 attendants from the world's best automotive companies such as Ford, FCA, GM, Honda, Hyundai, Nissan, Tesla, Toyota and Volkswagen.
In the conference, SU IMC researcher Atakan Koçanlı, under the supervision of Burcu Saner Okan as part of his Master's program, was awarded second prize in the poster competition for master students with the poster titled "Development of graphene / talc hybrid additive from plastic wastes by upcycling technique and its use in the production of light-weight automotive parts". Abdulmounem Wis Alchekh, a post-doctoral researcher and the Faculty of Engineering and Natural Sciences Faculty Member Yusuf Menceloğlu also contributed to this research.
The study awarded is one of the 1003 projects supported by Turkey Scientific and Technological Research Council of Turkey (TUBITAK) Research Support Programs Department (ARDEB) under the coordination of SU IMC researcher Burcu Saner Okan in the project numbered 218M658 and titled "Development of graphene / talc hybrid additive from plastic waste with upcycled technique and its use in the production of light and robust prototype interior and exterior trim parts in the automotive industry as a reinforcer". Farplas Automotive Inc. is a partner in this project undertaking the task of evaluating the performance of the developments made and producing a prototype.
This study with its innovative approach has made a significant contribution to a circular economy by addressing the biggest problem in today's world- the transformation of waste plastics into value-added products. Within the scope of the research, the carbon source in waste plastics, the reinforcing element commonly used in automotive plastics, is deposited on talc, enabling the production of a new generation graphene / talc hybrid additive. This developed additive will be used in the production of lightweight and low-cost automotive plastic parts.